"Diligence overcomes difficulties, sloth makes them."
~Benjamin Franklin
"When you're traveling, you are what you are right there and then. People don't have your past to hold against you. No yesterdays on the road."
~William Least Heat-Moon
As we all saw, Nevada's defense made about five times its normal share of difficulties for itself in the second half of Saturday's game. And while it's true that new places afford one's self new opportunities for first impressions, Heat-Moon clearly isn't familiar with the power of college colors. Your past might not mean much to a stranger in a new place, but the jersey you're wearing definitely can.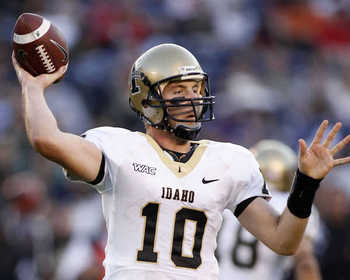 You have to give some credit to Idaho for coming up with a truly unique nickname for its teams. There are enough Tigers, Eagles, Bulldogs, Aggies, Wildcats, Panthers, Lions and Spartans in this country at every level of competition to fill all the stadiums in all the world. But how many Vandals are there? Probably only enough to fill one over-sized phone booth (not unlike the actual Kibbie Dome). Additionally, for an amateur history buff like myself, that kind of name is always worth
a couple of style points
.
It's also hard not to be at least a little happy for their football team after the years upon years of epic suckitude they laid down and bad luck they experienced before their eight-win season last year. After all, this was the program that gave us Tom "I'm not an NFL coach, but I do coach the Raiders" Cable and Dennis
"I'm not going anywhere -- I swear that's not a moving van"
Erickson. If Washington State's athletic director doesn't have Robb Akey on speed dial yet (he was previously the Cougars' DC), pitchforks and torches should be at the ready.
Thanks mostly to some big losses on their offensive line and a penchant for penalties (76.5 penalty yards and 7.9 penalties per game), the Vandals have taken a step down from the heights they reached in 2009. Although Nathan Enderle and his corps of receivers have still ruled the air (335.5 passing yards per game, 4th nationally and 2nd in the WAC), Idaho's O-line hasn't been able to either give their QB consistent protection (30 sacks allowed, fifth from last in the country) or establish much of a running game to compliment the pass (87.9 yards per game, sixth from last nationally). They're not very good with covering or receiving kicks and punts, but do boast a good kicker in Trey Farquhar (13 field goals made) and punter in Bobby Cowan (44.1 yards per punt, 2nd in the WAC behind Brad Langley and 29th nationally). Their passing and running defenses aren't particularly good stats-wise, but they do lead the nation with 14 fumbles recovered. Although Nevada has thus far avoided giving up an inordinate amount of fumbles, they've nonetheless shown an unfortunate propensity for putting the ball on the turf, and Idaho would be all too eager to capitalize on such carelessness.
Nevada continues its run of good games against Idaho with a comfortable and convincing road win. Whatever bad juju has plagued Kaep in previous games is shaken off, and he turns in a performance more reminiscent of the electrifying, game-changing player we all know. Rested up and fully healed, Taua also returns to form with a vengeance. The defense channels their earlier efforts against Colorado State and BYU -- NOT the second half clusterfuck against Utah State -- and keeps the Vandal air attack in check.
Idaho hurls its way to a win in another shootout. No lead Nevada earns is safe as the Vandals answer their visitors score for score. The Pack is once again unable to assemble a complete, four quarter effort, repeatedly done in by a lack of urgency and dozens of self-inflicted mistakes. Turnovers rule the day, and Idaho pounces on each and every opportunity Nevada presents them with. All the previous talk of renewed focus and determination from the defense ends up being just that: talk.
As I type this, I'm preparing for the long, long LONG drive up to Moscow tomorrow morning. But it's all gravy, since my Dad will be right there with me. Hopefully you've read my previous entries and know what I have in store for you folks once I get back. No need to wish us luck or urge us to
vaya con Dios
-- I can assure you I'll be doing enough of that for both of us.