Nevada's 2009 season started and ended with nationally televised 35-point beatings in far-flung locations. As of now, the only things guaranteed to start and end the Pack's 2010 season are home games (either actual or in spirit) against opponents nicknamed the Eagles (As an aside, cheer on Eastern Washington when they play Delaware in the
FCS
National Championship game this Friday).
We'll start this week's bowl festivities with a closer look at the Boston College offense.
One quick look at this unit is enough to tell you that it's not the main reason why the Eagles are here. BC only averages 18.9 points per game -- more than four of Nevada's prior opponents, to be fair, but still 109
th
in the country. They only tally 308.5 yards of offense per game, good for 106
th
-- that's nearly seven fewer yards per game than San Jose State, barely higher than Nevada's per-game
rushing
average and ranked only six spots higher than New Mexico State's offense and twelve spots higher than
UNLV's
. Moving the ball through the air has been a trying task for the Eagles all year long, who've thrown more interceptions (17) than touchdowns (13), completed just 52.4% of their passes (for comparison's sake,
Kaep
completed 53.8% of his passes his freshman year) and boast an average efficiency rating of just 110.9. They only convert one out of every three third downs and have surrendered 2.25 sacks per game as well. Even the relative strength of their rushing attack is still ranked in the bottom half of the nation's teams at 133.2 yards per game. A group of world-beaters this unit is not.
The Eagles have five quarterbacks listed on their roster, all of whom are underclassmen. Three of them have seen significant action at various points of the year, with sophomore Dave
Shinskie
starting four of the first five games before gradually handing the torch over to true freshman Chase
Rettig
. He'll be the third true freshman quarterback Nevada's defense will face this year after Colorado State's Pete Thomas and
BYU's
Jake Heaps. Their highest passing output was 265 yards in a 31-13 home loss to
Notre
Dame, and their worst performance was probably in a 24-19 loss at Florida State in which they were held to just 95 yards. The only game in which they scored more than two passing touchdowns was the season opener against Weber State.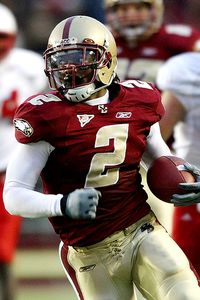 But luckily, the outlook gets much rosier (or would it be maroon-
ier
with BC...?) when the focus shifts to the Eagle ground game. They're led by junior back
Montel
Harris, whose 103.5 yards per game are currently 16
th
-best in the nation. If given the chance, freshman back-up Andre Williams has shown he can lead the offense, too, as he did when he ran for 185 yards and a touchdown in the season finale at Syracuse. Though not spectacular by most standards, being ranked 88
th
in rushing yards per game is a little misleading with this group -- they've actually had six 150+ yard games that are brought down in the averages by a few really sub-par outings, like the 5 yards on 23 carries they ran for against
Notre
Dame.
The following is a small breakdown of how Boston College's opponents have stacked up on defense and how the Eagle offense fared against them.
9/4 Weber State W 38-20
Total Defense: 109
th
(in
FCS
)
BC Offense: 411 yards, 5
TDs
, 1
FG
, 17 first downs
9/11 Kent State W 26-13
Total Defense: 11
th
BC Offense: 305 yards, 2
TDs
, 4
FGs
, 19 first downs
9/25 Virginia Tech L 19-0
Total Defense: 53rd
BC Offense: 250 yards, 16 first downs
10/2

Notre

Dame L 31-13
Total Defense: 52
nd
BC Offense: 270 yards, 1 TD, 2
FGs
, 13 first downs
10/9 @ NC State L 44-17
Total Defense: 32
nd
BC Offense: 272 yards, 2
TDs
, 1
FG
, 12 first downs
10/16 @ Florida State L 24-19
Total Defense: 42
nd
BC Offense: 266 yards, 4
FGs
, 9 first downs
10/23 Maryland L 24-21
Total Defense: 39
th
BC Offense: 285 yards, 3
TDs
, 16 first downs
10/30 Clemson W 16-10
Total Defense: 19
th
BC Offense: 305 yards, 1 TD, 3
FGs
, 16 first downs
11/6 @ Wake Forest W 23-13
Total Defense: 100
th
BC Offense: 298 yards, 3
TDs
, 1
FG
, 14 first downs
11/13 @ Duke W 21-16
Total Defense: 108
th
BC Offense: 356 yards, 3
TDs
, 15 first downs
11/20 Virginia W 17-13
Total Defense: 78
th
BC Offense: 370 yards, 2
TDs
, 1
FG
, 18 first downs
11/27 @ Syracuse W 16-7
Total Defense: 7
th
BC Offense: 315 yards, 1 TD, 3
FGs
, 18 first downs
Whenever an
AQ
team and non-
AQ
team are matched up, the initial impulse for many is to explain away any of the
AQ
team's statistical imperfections by saying "Well, they play in a tougher conference." And indeed some of the blame for
BC's
struggles on offense can probably be assigned to the above average defenses they've lined up against many weeks. But you wouldn't be able to tell the defenses of Wake Forest, Duke and Virginia apart from a lot of WAC teams, and the Eagles still didn't exactly light up the scoreboard those weeks. But ultimately, to their offense's credit, the three statistically best defenses they've played against -- Syracuse, Kent State and Clemson -- were all wins, and that's what matters most. "Good enough" has usually been just that for BC. In a way, they're the
Millennium

Falcon
of offenses: they may not look fast, but they've got the fun where it counts.
In one of my next two entries, I'll turn my attention to one of the main attractions of the Fight Sponsorship Bowl: the Boston College defense.