"Now this is not the end. It is not even the beginning of the end. But it is, perhaps, the end of the beginning."
~Winston Churchill

Get that lampshade from your Pack Friday party off of your head and turn that profound-but-still-somehow-confusing quote over in your mind a few times. This is my final preview of the regular season -- there will be no crying here on my watch, and the
fungo bat
I have at my side will make sure of that.
If you make the mistake of looking past the Bulldogs to any of the multitude of bowl scenario rumors currently swirling around the Pack, you're in dire need of a brief history lesson. In 2008, Nevada's regular season ended with the exact same sequence of games they've been dealt this year: Boise State at home, followed by Louisiana Tech on the road. In both cases, the Broncos came into Mackay Stadium on Nevada's Senior Day nationally ranked and took the Pack's best shot in the second halves. The Pack's rally came up short that day, and it was evident the following week in Ruston that they weren't at their emotional or physical peaks when they fell behind 31-14 in the third quarter.
In the sporting world, this is what's called a "letdown" -- having one's on-field performance take a sudden nosedive as a result of not being able to maintain the same intensity, focus or all-around emotional high of the previous game. It took another, more successful second-half comeback to give the Pack a 35-31 win over the Bulldogs that year, and with all of the preparations carried out for a possible appearance by the Mother of All Letdowns on Saturday, Yours Truly is officially scared shit-less.
But it takes a capable opponent to enable a letdown to fully unfold, and just like that year, Tech is a decent team with some great skill players capable of beating the Pack on the right day. They're led by wide receiver and return specialist Phillip Livas, one of the only players who comes close to terrifying me the same way Kaep has terrified fans of other WAC teams for the last three and a half seasons. He's taken eight punts or kicks back for touchdowns, the latest of which tied the NCAA career record in that category last week. You know those characters in old-time-y cartoons who nibble down their fingernails like corn on the cob whenever they're really scared of something? That's what it's like watching a coverage unit try to tackle Phillip Livas.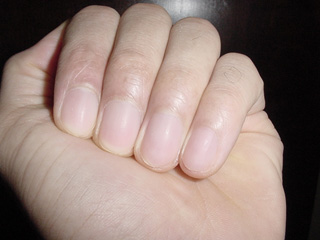 Fact: Phillip Livas hates fingernails and would destroy each of yours if given the chance.
First-year head coach Sonny Dykes (a fine name for an aspiring lesbian porn star) gained notoriety coordinating Arizona's variation of the spread offense under Mike Stoops for three years. The change to the spread wasn't easy for the Bulldogs: through their first five games, they averaged just 333.8 yards, 18.8 first downs and 18.4 points per game while losing four in a row. But the unit has started clicking in to place since then, generating 452.8 yards, 23.3 first downs and 35.3 points per game in their last six outings, winning four of those six games and needing one more on Saturday to become bowl eligible.
Aside from Livas and the strides their offense has taken this year, though, not a whole lot else stands out about Tech. Their turnover margin is -5, and for a spread offense they're actually not very good at converting third downs (36.7%). "Average" is probably the highest praise you could give any one part of their defense, and their pass defense is arguably the worst unit the Pack will have played against all year (302.1 yards per game and 141.4 efficiency, 117th and 98th in the country, respectively). Their total defense is ranked 114th, two spots
below
New Mexico State and only four spots higher than San Jose State. In most weeks, these are not the kinds of numbers which would give an offense like Nevada's much pause.
What letdown? Fully aware of the day's stakes, the Pack rolls to victory on a tidal wave of offense. The same plan implemented against Idaho -- emphasizing the pass to open up the run -- pays enormous dividends, and five different players find the end zone before the game is over. On the heels of their Pack Friday comeback, the defense puts together a commanding performance, stopping most (but not all) of the Bulldogs' big play attempts en route to a share of a WAC title.
Anything that can go wrong does in the aforementioned Mother of All Letdowns. The Pack comes out totally flat, and Tech pounces on them for a quick two-score lead. Just when Nevada builds up some momentum, out comes Phillip Livas for a spirit-shattering kick or punt return. Recurring mistakes take away whatever momentum Livas doesn't. Completely drained from the previous week's win and the long travel, Nevada is unable to put together enough scores for a win against a hungry Bulldog team.
It may sound a little disrespectful to chalk up most of Tech's chances for an upset as a possible letdown for Nevada, but that's pretty much what it boils down to. Their offense is good, but not great, and in most weeks, if Nevada's offense shows up and does its thing, they would win a game like this by 4 or more scores. This final score will be determined by how badly Nevada wants that conference championship, and with this group of seniors leading them, I think a comfortable win is more likely than a letdown loss.