Take another look at Nevada's 2011 football schedule. After having the reaction that's become standard by this time -- swearing out loud and violently punching the person closest to you -- what's the first thing you notice about it? There's a lot of red congregating around the month of October, isn't there? Much like with repeat criminals or Larry the Cable Guy fans (often one and the same), no good can be expected when this many red teams share the same confined space, even when spread out over four weeks. And in the case of these four, it produces a quantum singularity of pure suckitude -- a "red hole" -- right in the middle of the season.
I can already hear some of you: "Fresno State almost beat Nevada last year. They didn't start sucking until after that game." Be that as it may, for convenience's sake, they're guilty by association today. "What about all the good things in this world that are red, like Santa Claus or the Red Cross?" Very true, but you know who else likes red? Satan and communists.
That's why I'm enlisting the help of Tom Clancy submarine commander Marko Ramius to help me navigate this treacherous stretch of calendar. He defected to the U.S., has a submarine that's nearly undetectable, and was once played by Sean Connery -- what's not to love?
"Lenin'sh beard! It'sh a red hole! Take evashive action, you panshiesh! And why doesh everyone on thish shub shpeak with a phony Russian ackshent eckshept me?!"

NSU Rebels

If Rebel football were an environmental disaster, it would be a tire fire. No one knows exactly when it started burning, but that's pretty much all it's ever done and will likely continue to do for the foreseeable future. And that toxic black smoke coming from Sam Boyd Stadium billowed thicker than ever last year, with a new coach, young team, new offense and brutal schedule each playing a part in reducing the Rebels to rubbery kindling.
Offense
Scoring: 18.4 ppg (110th)
Rushing: 103.3 ypg (109th)
Passing: 170.9 ypg (98th)
Total: 274.2 ypg (118th)
1st Downs: 15.7 pg (t-112th)
3rd Downs Converted: 34.1% (t-103rd)
Red Zone Conversions: 83.3% (t-50th)
Defense
Scoring: 39.7 ppg (116th)
Rushing: 222.7 ypg (116th)
Passing: 227.8 ypg (t-77th)
Total: 450.5 ypg (109th)
Sacks: 12.0 (t-113th)
Tackles for Loss: 48.0 (117th)
Turnover Margin: -1 (t-61st)
Special Teams
Touchbacks: 11 (t-44th)
Kickoff Returns: 23.3 ypr (28th)
Punts: 37.0 ypp (114th)
Punt Returns: 7.7 ypr (67th)
Some Numbers to Ponder:
224
- Number of kick return yards sophomore-to-be Marcus Sullivan racked up in the season finale against San Diego State, a UNLV record;
8 for 170
- Number of receptions and receiving yards senior-to-be Phillip Payne had, respectively, against Nevada last year, both career highs;
3-32
- The Rebels' record in road games since 2005.
One thing you'll notice very quickly with three of the next four teams I'm profiling is that they're all pretty much interchangeable. Look at an offensive or defensive statistical category and there's a high likelihood that NSU, New Mexico and New Mexico State were all clustered at the bottom nationally in it last year. The only difference with the Rebels is that Bobby Hauck's second season on tap isn't nearly as far along in the "rebuilding process" the three teams have all been stuck in of late.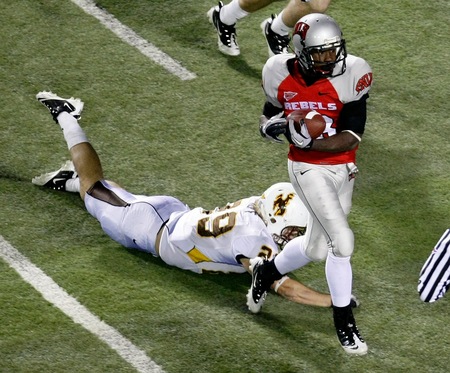 And if Paul Myerberg over at
the Pre-Snap Read
is to be believed (check out his blog more often if you don't already), then this year will likely be more of the same for the Rebels. Sure, with Marcus Sullivan returning kicks and a couple of wins posted over some even worse D-1 teams (something San Jose State can't boast) it wasn't all bad. It was more like "still predominantly bad with a peephole-sized ray of hope for comfort." The Rebels just haven't been able to find a coach that can build them up to respectability since John Robinson's first few years -- they make a hire that sounds good at the time, but who can't get things going quickly enough and is inevitably replaced four or five years later by another coach who believes he'll succeed where nearly everyone else has failed. The cycle then starts over, and friend and foe alike are left to wonder why they can't seem to get it right.
The Rebels lose quarterback Omar Clayton, three starting offensive linemen and a few other back-ups on offense. Meanwhile, a defense that was already porous to begin with is poised for significant turnover: tackle Isaako Aaitui, ends Preston Brooks and Daniel Mareko, safety Alex De Giacomo, corner Mike Grant and all three starting linebackers must be replaced. It took the team's
dearly departed previous coach
four years to get his players fully installed and up to a level where they started showing flashes of real potential. If that timeline for development stays true this time around, then another year of hardship is probably on the way for the Rebels, prompting
our traditional response to such news
.
The Slog Through Red October continues next week with Los Lonely Lobos de New-o Mexico-o.