So it's after May 21st, 2011 and we were all spared the Rapture that was
supposed to have taken place on Saturday night
. Is it wrong that I kinda sorta half-expected it to happen? After all, wouldn't it have been just our luck as Wolf Pack fans to have our one win over Boise State in the last decade immediately followed by a worldwide, Biblical cataclysm of death? Maybe this means we CAN have nice things once in a while!
If the Bulldogs are playing a BCS team, chances are good that they'll come out with the focus and intensity of soldiers on a mission. But often against the teams they're expected to beat, they can't seem to recapture that same fire. They've also shown an unfortunate knack for coming apart as their seasons wind down. In a way, Fresno State is to college football what Stephen King is to horror stories: their set-ups are awesome, but their pay-offs are crap.
Offense
Scoring: 29.0 ppg (t-48th)
Rushing: 150.6 ypg (65th)
Passing: 220.0 ypg (61st)
Total: 370.6 ypg (70th)
1st Downs: 19.3 pg (64th)
3rd Downs Converted: 35.4% (93rd)
Red Zone Conversions: 84.8% (41st)
Defense
Scoring: 30.0 ppg (83rd)
Rushing: 158.5 ypg (66th)
Passing: 208.8 ypg (46th)
Total: 367.2 ypg (59th)
Sacks: 35.0 (t-12th)
Tackles for Loss: 84.0 (t-34th)
Turnover Margin: -11 (t-111th)
Special Teams
Touchbacks: 6 (t-77th)
Kickoff Returns: 22.5 ypr (45th)
Punts: 37.4 ypp (110th)
Punt Returns: 9.3 ypr (44th)
Some Numbers to Ponder:
2.69
- Number of sacks per game the Bulldogs averaged in 2010, tied with Arkansas for 13th in the country;
16.0 and 93
- Number of tackles for loss and their yards, respectively, that Chris Carter accounted for in his final season;
15
- Number of fumbles lost by the Bulldogs last year, tied for 108th in the country.
There's been a pivotal moment in each of the last few seasons where the Bulldogs seem to have just thrown up their hands and said "Screw this." Last year it was after they came up short against the Pack, when they got shut out by Boise, squeaked by Idaho and Illinois and then got spiritually de-pantsed by Northern Illinois. In the year before, it was a beatdown in Reno that set the stage for two more close wins and a flat, uninspiring bowl loss to Wyoming. And in the year before that, a close road loss to Louisiana Tech led to losses in three of their next five games, capped off by their first New Mexico Bowl loss to Colorado State. For a program with so many wins against BCS competition, they seem to have a lot of trouble grasping the concept of "finishing what you start."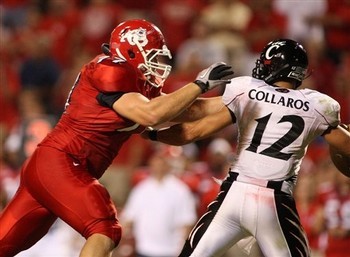 The stats tell the story of a team that was exceptional in a few areas (sacks and tackles for loss) mediocre in most others and sub-par in the rest. Their offense was capable of being good, and their defense was capable of being exceptional, but they still had a lot of trouble holding on to the ball and keeping teams out of the end zone, respectively. Turnovers, in particular, seem to have played a big role in unraveling the team in each of their five losses. Even with a final record of 8-5, it was still evident that they couldn't...quite...get...over...the hump, a problem that should be all too familiar to us.
Gone are Ryan Colburn at quarterback, tight end Vince Pascoe (not to be confused with Bear Pascoe -- I looked it up) and a stunning four out of five starters along the offensive line. The situation is only slightly less pressing on defense, where the aforementioned Carter, Cornell Banks (nose tackle), Ben Jacobs (middle linebacker), Desia Dunn (corner) and Lorne Bell (strong safety) all depart. The skill players who do return, like Jamel Hamler, Robbie Rouse and Logan Harrell, will be relied upon early and often for this team, particularly as Derek Carr gets acclimated to being the new starting quarterback. Even so, they still probably have enough talent to at least be in the mix for the WAC title.
If the Slog Through Red October were a video game, next week's team would be the Gigantic Main Boss Monster of Suck: New Mexico State.