If you're anything like me (first off, congratulations and high fives all around), then a part of you always dreads summertime. Sure, there are plenty of good things about summers in the Truckee Meadows: perfect golfing weather, night games at Aces Ballpark and taking in the
wonderful Tahoe scenery
on Fourth of July weekend, for starters. But in spite of all of those things, summertime in Reno -- and indeed every other city across this great nation -- suffers from a terrible handicap: no college sports.
After March Madness ends and the last spring football practices conclude, the time from mid-April to about August is the worst time of year to be a fan of college sports. Sure, college baseball lasts into June, but that's merely methadone for this kind of addiction. You can try using those aluminum bats for smashing mailboxes or beating up Boise State fans, but it just isn't the same.
But fear not, for you won't have to endure it alone anymore! This is the first installment of what I'm going to call "Summer Fillers." I'll be taking a look at each of the teams on the 2011 football schedule and give you a brief recap of their 2010 season, break down some stats and take a look at who they lose from their prior season. And if you're not completely satisfied for whatever reason...it's filler, so what did you expect?
Oregon Ducks

Nevada opened last year against the eventual FCS national champion Eastern Washington at home. This year they open on the road against the team that was a field goal away from becoming the FBS national champion. "Not quite the same" is an understatement on par with "The Great Wall of China is long."
Offense
Scoring: 47.0 ppg (1st)
Rushing: 287.6 ypg (4th)
Passing: 243.1 ypg (39th)
Total: 530.7 ypg (1st)
First Downs: 26.6 pg (1st)
3rd Downs Converted: 44.9% (29th)
Red Zone Conversions: 82.4% (t-56th)
Defense
Scoring: 18.7 ppg (12th)
Rushing: 128.1 ypg (27th)
Passing: 217.9 ypg (56th)
Total: 346.0 ypg (34th)
Sacks: 33.0 (t-21st)
Tackles for Loss: 96.0 (t-10th)
Turnover Margin: +13 (t-8th)
Special Teams
Touchbacks: 12 (t-39th)
Kickoff Returns: 21.4 ypr (t-66th)
Punts: 41.8 ypp (44th)
Punt Returns: 16.98 ypr (2nd)
Some Numbers to Ponder:
5
- number of punts the Ducks returned for touchdowns, the most of any team in the country;
158
- number of touchdowns the Nevada and Oregon offenses combined for last year;
4
- number of offensive categories (scoring offense, rushing offense, total offense and first downs per game) in which the Ducks and Wolf Pack both finished the season ranked in the top ten nationally.
The Ducks' offense put up a best-in-the-nation 81 touchdowns last year, and frankly I'm too overcome with awe to whip out a snappy retort for that. Whether watching them on TV or just perusing their stats, it's evident this was a team that struck hard, fast and often when they had the ball. When you're only punting 0.9 times per game while cranking out 47 points per game, it means your offense expects to control every contest and succeeds in doing just that most every week.
The top-shelf talent leading the Ducks in 2011 will include LaMichael James, a Heisman candidate and the nation's leading rusher a year ago, and cornerback/return specialist Cliff Harris, who accounted for four of those five punts returned for touchdowns I mentioned earlier and also pitched in six interceptions on defense. It's nice to see Nevada continuing its tradition of scheduling teams that look quite beatable at one time and then get REALLY good by the time Nevada actually plays them (see Texas Tech and Missouri in '08).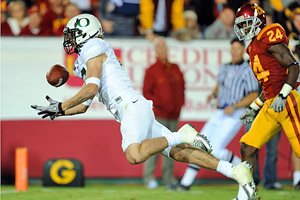 Oregon's offense was a lot like Nevada's in that it centered on a powerful ground game that could shift to a less potent but nonetheless effective passing attack. Defensively, they were actually a little soft ("little" being the key word) as far as the amount of yards they gave up, but as their average points allowed, tackles for loss and turnover margin all show, they stepped up in the most important areas at the most important times.
Odds are that there will still be plenty of talent for the Ducks to boast when the season rolls around, but this isn't to say they still don't have some crucial holes to fill. Receivers Jeff Maehl (the program's most productive receiver ever) and D.J. Davis are gone, as are three offensive linemen (tackle Bo Thran, center Jordan Holmes and guard C.E. Kaiser). Three out of four starting defensive linemen must be replaced, including tackle Brandon Bair and end Kenny Rowe, who combined for nearly one third of the team's tackles for loss. Linebackers Casey Matthews and Spencer Paysinger and corner Talmadge Jackson III round out the departing defenders.
Look for a recap of the Silver and Blue Game some time on Saturday night and a Summer Filler for San Jose State next week.