Through most of the summer, I've tried to update This Space every Tuesday and Friday. That changed this week, when I didn't have anything to put up on the 19th. Sure, I probably could've wrought out a half-assed "What's with all of this realignment stuff?" entry, but I know you're all too smart for that. And I ain't apologizing for my brief absence, either. Ya know why? 'Cause it's hard to find stuff to blog about in the summertime, damn it! And I don't owe you maggots anything except a swift kick in the toolbox for riding me so damn hard all the time.
OK, that didn't work. I can't just alienate and ingratiate my readers at will like the NFL and NBA can. So please come back! There's sheet cake and punch this week. And another BKtU entry!
This one is on passing offenses, or more specifically, the quarterbacks and receivers who make them possible. This one was particularly interesting in that only four of Nevada's twelve opponents return their starting quarterback from the previous year, and that's obviously a big factor in the offense's continuity from one season to the next. If you're the Nevada secondary, this is also a big deal in that you're probably thanking the football gods for actually throwing you a bone for once.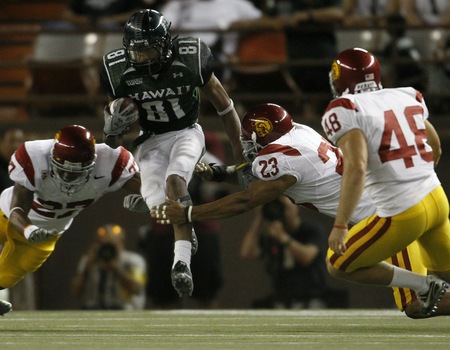 I calculated a composite ranking from the teams' average passing yards per game, the total number of passing yards they accumulated, their pass efficiency rating, their completion percentage, the number of passing touchdowns they had and the number of interceptions they threw. Final factors in approximating their strength included how many of their starting receivers return (I'm including tight ends in this group) and whether their quarterback also returns, which I'll list next to their name and composite ranking.
#12 New Mexico

106th and 3 of 4
~ There's no way to spin this one in a positive manner except to point out how many receivers return. Not only is a projected starting quarterback
no longer on the team
, but his nickname was "Stump." I can't believe I'm typing this, but I think I've actually found a nickname that makes "Jimmer" sound dignified by comparison
.



#11 Utah State

99th and 5 of 5

~
For all the talk we heard about Diondre Borel being a good dual-threat quarterback, the passing stats he put up last year were quite poor. His coach's good fortune of having four starting receivers and a tight end all return makes the task of finding an adequate quarterback -- not even a great one -- critical for the Aggies.
#10 New Mexico State

96th and 1 of 3
~ If it weren't for the relatively few interceptions their quarterbacks threw, this would be the worst of the twelve passing attacks on this list. As it stands, I can admit their composite ranking was skewed upwards a little because of this.
#9 UNLV

83rd and 3 of 3
~ Well this is awkward. For the first time in this series, the Rebels' unit in question isn't ranked in the bottom three. Suddenly I feel like everything I know is a lie. I have to go lay down somewhere.
#8 Louisiana Tech

72nd and 3 of 4
~ For a team implementing a spread offense for the first time, the Bulldogs made out pretty well. They made visible progress as the season went on and likely have more productivity to look forward to with Colby Cameron taking control under center.
#7 San Jose State

69th and 3 of 4
~ It's true -- the Spartans were actually decent at moving the ball through the air last year. Granted, their old quarterback still threw a lot of interceptions and wasn't very efficient overall, but there's no reason to believe they can't continue getting better.
#6 Idaho

50th and 2 of 4
~ The Vandal offense finds itself at a crossroads. Nathan Enderle and his former receivers helped turn the program around for the better, but their replacements will be asked to continue what they started and the potential for a letdown is certainly there.
#5 Fresno State

39th and 2 of 3
~ Ryan Colburn was mediocre in a few areas and above average in most others. Derek Carr will have a good group of receivers to throw to, but has to depend upon an almost entirely new offensive line for protection.
#3

TIE

Hawai'i (24th and 1 of 4)

and

Oregon (27th and 2 of 4)
~ You read that right -- it's the first tie of these entries. Both units boasted really impressive numbers in several areas last year, but have their own sets of pivotal questions to answer. Hawai'i was first in the country in three of this list's categories, but saw their composite ranking dragged down by lots of interceptions. Losing two of their top tree receivers is a concern, but not a significant one. Oregon was the more statistically well rounded of the two, but has a lot of productivity and depth to recapture in their receiving corps.
#2 Texas Tech

17th and 2 of 5
~ Similar to Hawai'i in that replacing their quarterbacks and receivers from year to year isn't normally an issue. The names will be different, but we can still likely expect the usual air-it-out Red Raider offense.
#1 Boise State

4th and 2 of 4
~ So the Broncos have to replace 5,900 receiving yards worth of productivity from where Titus Young and Austin Pettis used to start. Are you really anticipating a big step back for them in this area? Didn't think so. Worst-case scenario is the passing offense falls back from "Chuck Norris awesome" to "Boba Fett awesome."
So what say you, loyal reading stumps, of my list?