To celebrate our nation's independence yesterday, many of us took a moment to reflect upon why we're fortunate to be Americans and the people and things that make this country great. Or we stumbled up to Tahoe with copious amounts of sunscreen and booze worrying if we'd be ticketed for parking on the side of a two-lane highway near Sand Harbor. Not that I would have any experience with that.
But where the Fourth of July affords the opportunity to stop and consider why being American kicks ass, what do we as Wolf Pack fans have to remind ourselves how lucky we are? Me, of course! So sit down and shut up for the next few minutes as I explain -- in bullet point form, no less -- why being a Nevada fan is awesome.
~ Nevada is neither a "football school" nor a "basketball school" -- we've been fortunate to witness the kind of recent national success in both sports that many athletic programs at other levels would kill for.
~ Because of this, our off-season only stretches from early April to the end of August. If we were Rebel fans, football would just be a sucky distraction to mock and/or placate us until basketball starts.
~ On that note, our fans can actually recall the last time the football team won a conference championship.
~ We spell "Wolf Pack" the right way.
~ Our rivalry trophy is a cannon -- not
a pig
,
platypus
,
wagon wheel
,
milk can
,
beer stein
or whatever the hell an
Illibuck
is, but an ACTUAL FRIGGIN' CANNON! Seriously, how many debates amongst other college football fans can be ended by saying "Well, we have a cannon...so there"?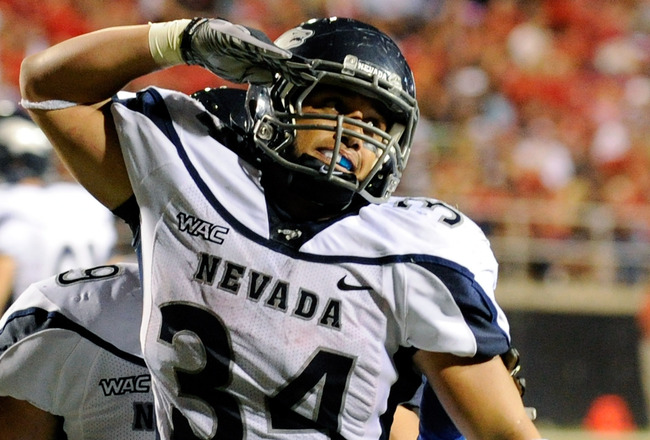 ~ Our football team's head coach has more loyalty for his alma mater than Nick Saban, Bobby Petrino and Rich Rodriguez have for themselves. And that's a lot of loyalty.
~ The fact that it's pretty much impossible to overstate the previous sentence.
~ Having a head coach willing to put his reputation on the line in the relative twilight of his career for the sake of creating something called the "pistol offense."
~ Also having a staff of assistant coaches who didn't commit him to an insane asylum when he first explained it to them.
~ Having that same coach pass on a pay raise not because the state ordered him to, but because he
felt it was the right thing to do
.
~ In addition to cheering for the Pack, we've had the privilege of witnessing nationally ranked competition come to Reno to challenge Nevada -- Texas Tech and Boise State in football and Kansas and North Carolina in basketball, with even more on the horizon.
~ The fact that Nevada's actually beaten a few of those teams.
~ Seeing our last quarterback garner almost as much national attention for his work ethic and personality as he gets for his skills with a football.
~
This video
. 'Nuff said.
~ Cheering for a basketball team who's had actual success in the NCAA Tournament in the last decade.
~ Being invited to a conference with bowl destinations in Las Vegas and San Diego.
~ Being invited to a conference where at-large NCAA bids are the norm and not the exception.
~ Being invited to a conference that believes in the importance of playing college football on Saturdays and not in whoring its teams out to the programming whims of an implacable, uncaring monolith.
~ Being invited to the only FBS football conference that can boast of having a service academy as one of its members.
~ Being invited to a conference whose commissioner gives the impression -- at least, most of the time -- that he actually knows what he's doing.
~ And last but far from least...being invited to a conference with a future to look forward to.
So those are some of my reasons for why we've got it made -- what are yours?