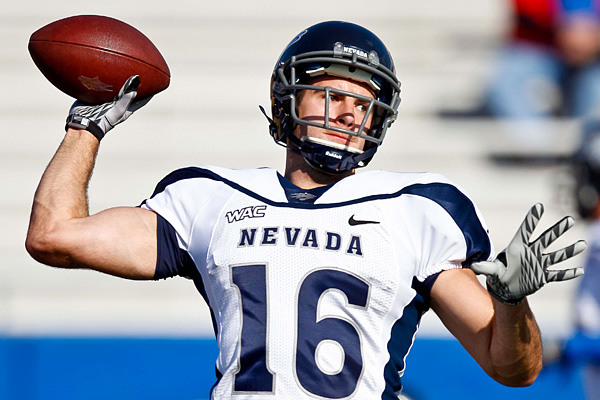 I feel bad for Tyler Lantrip.
Sure, when the media inevitably asks him what's it's like to try and follow in Colin Kaepernick's shoes, he'll say all the right things a collegiate quarterback and leader amongst his teammates is expected to say. And we have no reason to doubt his honesty in saying those things. But no matter what he ends up doing on the field, no matter how many wins he leads his team to, the comparisons will unfairly start up at the first and slightest sign of struggle.
And it's all because of timing, really.
He arrived on campus one year after Kaepernick and -- like many people at that time -- with nary an inkling of what he was capable of. A knee injury to Nick Graziano in a home game against Fresno State in 2007 is what initially thrust Kaepernick into the spotlight.
His first official start
the following week -- on national TV at Boise State -- formally introduced the whole country to "Krazy Legs" in a way few players ever introduce themselves to a sport. Records, both program and national, would be shattered over the next three and a half seasons, culminating in Nevada's night of all nights on November 26th, 2010.
Throughout this entire time, Lantrip sat on the sidelines, patiently waiting for his turn to take command of the ship his eventual predecessor had so skillfully guided to rarefied waters. He could've very easily followed the examples of Tate Forcier and Ryan Mallett and transferred out instead of continuing the waiting game. When you've been recruited by the likes of
Arizona State, Stanford and Northwestern
, chances are you don't have many illusions as to what you're capable of doing on a football field.
But Lantrip was content to honor his commitment to Nevada, both confident in the chance he would eventually have to blaze his own trail and knowing firsthand just how quickly circumstance could necessitate a new leader. Additionally, he realized there was no better place for him to be than right here at Nevada. Ralph Waldo Emerson once said "This time, like all times, is a very good one, if we but know what to do with it." And in that sense, there was no better way to groom himself for a starting role than to practice every day alongside the best pistol quarterback in the nation.
Lantrip is a quarterback with good height, a strong arm and a good presence in the pocket who also displays great maturity on and off the field. In short, he's the kind of player all but a few programs would welcome to their roster, and is good enough to start at many of them. But partly because of that aforementioned maturity and patience and mostly because of who held the position before him, his skill set won't be considered "good enough" by some.
The fact is that we can't expect every successive Nevada quarterback to churn out the kinds of numbers Kaepernick did any more than Alabama fans can expect every Crimson Tide coach to become the next Bear Bryant. It's not fair to the players of the present and it idolizes Kaepernick to an extent he probably wouldn't be comfortable with.
What we can do, however, is maintain our trust in a Hall of Fame head coach whose expertise in picking out quarterbacks is among the best in his profession. Lantrip has earned Coach Ault's backing, and not because he feels he'll be the next Colin Kaepernick. Becoming the next Tyler Lantrip will be plenty good enough for Coach and for all of us.