Before I go into the SF entry on Hawai'i, I'll briefly share my thoughts on the
Mountain West's press conference
from yesterday.
On the whole, I think the new logo is fine -- it's simple, but effective, and will help to further build up the Mountain West as something more than just a collection of athletic programs and universities. What I
didn't
like, though, is the hype that preceded what turned out to be a relatively modest announcement. But I admit that might've been a case of my personal hopes and aspirations being transposed on to something that didn't intend to come across that way. And it still beats the hell out of that
"Leaders and Legends" crap
.
Hawai'i Warriors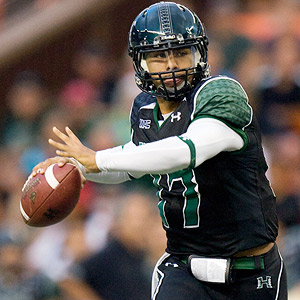 Although they will most likely be in the mix for a WAC title in the coming Year Without a Boise State, the Warriors will still field a team that will look very different from the one that went 10-4 last year. A few things will likely remain true, though: they'll pass a lot, they'll score a lot, and their roster will boast more hard-to-pronounce names than a Russian all-star hockey team.
Offense
Scoring: 39.6 points per game (10th)
Rushing: 106.4 yards per game (107th)
Passing: 394.3 yards per game (1st)
Total: 500.6 yards per game (6th)
1st Downs: 23.9 per game (t-13th)
3rd Down Conversions: 37.6% (77th)
Red Zone Conversions: 80.9% (71st)
Defense
Scoring: 25.5 points per game (58th)
Rushing: 135.9 yards per game (40th)
Passing: 221.7 yards per game (63rd)
Total: 357.6 yards per game (50th)
Sacks: 30.0 (t-32nd)
Tackles for Loss: 75.0 (t-59th)
Turnover Margin: +12 (t-11th)
Special Teams
Touchbacks: 5 (t-82nd)
Kickoff Returns: 20.2 yards per return (t-94th)
Punts: 43.0 yards per punt (29th)
Punt Returns: 3.8 yards per return (111th)
Some Numbers to Ponder:
194, 74 and 38
- Number of passing plays of 10+, 20+ and 30+ yards, respectively, that senior-to-be quarterback Bryant Moniz completed last year, all three of which were national highs;
23
- Number of interceptions the Hawai'i defense caught in 2010, tied with Virginia Tech for second-most in the country;
17
- Number of seasons which passed between the Warriors' last two 1,000-yard rushers (Travis Sims in 1992 and Alex Green last year).
In 2005, the WAC's top three teams beat each other in a manner not unlike a game of Rock Paper Scissors: Fresno beat Boise, Boise beat Nevada and Nevada beat Fresno. It happened again in 2010: Boise beat Hawai'i, Hawai'i beat Nevada and Nevada beat Boise, but unlike the previous instance, all three teams became co-champions this time. But where Nevada has arguably surpassed Fresno State in the last few years and finally shed its back of the Bronco monkey (or "Bronkey," if you will) for at least one year, the Warriors are a team which has continued to vex the Pack, and often in ways which have been incredibly frustrating and painful for us as fans to watch.
It's not that Nevada hasn't had success against Hawai'i in the recent past -- the home team has won ten of the eleven meetings between these two since Nevada joined the WAC in 2000. But since 2003, all but one game have been decided by ten or fewer points, and the Pack is 3-5 in those contests. In fact, from the standpoints of competitiveness and closeness on the field of play, I'm going to go so far as to declare Hawai'i as Nevada's best rival of the last few years. You read that right. NSU has been a rival in name only as of late, but these Wolf Pack/Warrior games have fit the term perfectly.
Like the other two front-runners for this year's King of the Hill Who's Not Boise State For Once, Hawai'i has a lot of important questions to answer. Those questions begin on offense, where four out of five starting linemen, three receivers (two of whom were highly productive) and a rare 1,000-yard running back all depart. On the other side, the two defensive backs who accounted for more than half of the Warriors' interceptions -- Mana Silva and Jeramy Bryant -- are both gone, as well as both ends and a back-up linebacker. Place kicker Scott Enos and kickoff return man Dustin Blount round out the alohas. Luckily for the Warriors, the team's undisputed leaders on offense and defense -- Moniz and linebacker Corey Paredes, the nation's fourth-leading tackler last year -- do return, and their chances of winning the last championship of the WAC as we know it will likely hinge upon their efforts.
Next week's Summer Filler will focus on Louisiana Tech, so get those numerous connecting flights and long bus rides squared away.