It's true, folks. By this time next week, Boise State will be an official member of the Mountain West and the R.M.S. Benson will be right on time for its date with that iceberg we've all seen coming. But while the Broncos are being escorted into that first set of lifeboats, allow me to take a look back at the time they've shared with Nevada in the WAC. Or at least the times I can remember.
*Cue "Wayne's World" flashback sound*
I had first heard about Bronco Stadium's blue turf in early 2005, and like
the film "The Room"
I figured I had to see it for myself in order to believe it. And sure enough, when I tuned in to see Nevada get pummeled in Boise later that year, my reaction to both their on-field performance and the actual field itself was "Sweet zombie Jesus that's heinous." To this day, that field is to college football what Liberace was to fashion: while you can't help but admire and commend the guy in question for his obvious skill at what he does, it all nonetheless begs the question "Why?"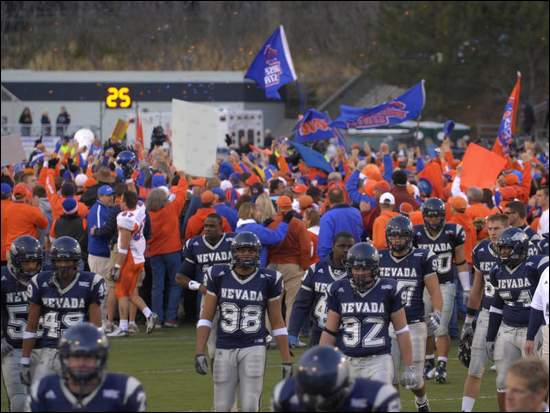 The 2006 game in Reno. This...was...
awful
. If I ever contribute a word to a dictionary someday, hopefully it will be the word "facepalm" so I can put a picture of Jeff Rowe getting sacked for the fiftieth time by a Boise State player underneath it. We all love Jeff -- he was a local high school hero, the first Nevada quarterback to run the pistol and a really nice guy by all accounts. But to put it delicately, he was about as effective as roadkill whenever he played the Broncos.
And that wasn't even the worst part. That was reserved for the Mackay Stadium field's hosting of the unofficial post-game victory celebration. If games like Pack Friday made you glad from the depths of your heart and soul to be a Nevada fan, then games like this one made you wonder why you take it so seriously at all. Being pretty much the only student fan left in that stadium, it was six, maybe seven different kinds of depressing to watch thousands of life-size traffic cones streaming on to that field. It was like the part in "Conan the Barbarian" where James Earl Jones kills Conan's mother right in front of him -- my cherubic innocence as a sports fan was forever defiled and the seeds of their future destruction were planted on that day (At least, in my head they were). The only comforting thought I had was that if their fans decided to tear down the goal posts like some of them had suggested before the game, the judge would go easy on me for whatever I would've done next. I'm no legal expert, but I'm fairly certain this is true.
Honorable Mention: the quarterfinal loss in the 2005 WAC Tournament in Reno. Sitting one section over from the Bronco fans in attendance made this one even worse. On the upside, seeing Nevada get an at-large bid to the Dance and a win over Texas the following week while BSU sat at home were pretty swell rebound prizes.
Best Memory

...Do you actually need to ask this question? Seriously, if this is even up for debate in your mind, just stop reading right now.
It wasn't just the second half ripped straight out of a cheesy sports movie that made this so wonderful, but all the things that were secondary to the win itself. All of the publicity it earned for the program. The feeling of proud vindication for all the people who stood by the team through the worst of times. The looks of stunned disbelief on the faces of every person in blue and orange shuffling out of that stadium. The
giddy and unabashedly ridiculous dancing I performed to the sounds of Journey
blaring out of my car speakers.
Honorable Mention: the ASUN bus trip I took up to Boise for a basketball game in 2007. The moment that has stayed with me ever since that night was when a very old lady sitting in front of us tried to talk smack -- something unimportant about Nick Fazekas being Nevada's only good player or something. I responded with a polite "Watch the rest of our guys and you'll see for yourself" almost immediately before Denis Ikovlev and Tyrone Hanson hit back-to-back threes. We didn't hear a peep out of her the rest of the evening.
So Hello/Goodbye, Boise State. As you venture forward into that world of uncertain possibilities, take one last look at those "Western Athletic Conference Co-Champion" rings, pop in a copy of that TCU/Wisconsin Rose Bowl and be sure to carry a fond remembrance of who made them both possible into the Mountain West with you.