We're approaching the end of our Summer Filler series, and frankly I'm not sure what else I can add to that right now. So enjoy
this video
in honor of the Mavericks' win on Sunday night.
Louisiana Tech Bulldogs

It's easy to feel bad for the WAC's "other" Bulldogs. Even in the years they field good teams, it's difficult for fans of other WAC teams to get fired up when they come to town because...well, they're from Louisiana. They've been stuck all by themselves in their central time zone outpost ever since the WAC's last major reorganization in 2005. And when your basketball "travel partner" is in Las Cruces, New Mexico -- across the entire state of Texas and one time zone over -- it's not a great situation for anyone involved.
Offense
Scoring: 26.8 points per game (59th)
Rushing: 170.8 yards per game (40th)
Passing: 219.1 yards per game (62nd)
Total: 389.8 yards per game (t-49th)
1st Downs: 20.9 per game (41st)
3rd Down Conversions: 37.6% (t-78th)
Red Zone Conversions: 77.6% (91st)
Defense
Scoring: 30.7 points per game (90th)
Rushing: 171.9 yards per game (t-81st)
Passing: 290.2 yards per game (117th)
Total: 462.1 yards per game (116th)
Sacks: 24.0 (t-65th)
Tackles for Loss: 63.0 (t-93rd)
Turnover Margin: -5 (t-80th)
Special Teams
Touchbacks: 5 (t-82nd)
Kickoff Returns: 23.5 yards per return (t-25th)
Punts: 40.11 yards per punt (79th)
Punt Returns: 13.6 yards per return (10th)
Some Numbers to Ponder:
4 and 4
- Number of kick-offs and punts, respectively, that departed wide receiver and return specialist Phillip Livas returned for touchdowns in his career, which together tied an NCAA record;
4-53
- Since 1998, the Bulldogs' record in games in which they've score less than 21 points;
2
- Number of teams other than Boise State who have won an outright WAC title since the Broncos joined the conference (Louisiana Tech in 2001 and Hawai'i in 2007).
The states of Nevada and Louisiana have about as much in common with each other as Wayne Newton and Britney Spears do -- aside from both being professional singers, that's pretty much where the similarities end. And aside from both having played football in the WAC for around a decade apiece, the Pack and the Bulldogs don't have much else in common themselves. Maybe in a parallel dimension these programs could've developed a nice little rivalry, but here in our non-Bizarro world a little thing called "geography" gets in the way.
Once Sonny Dykes' spread offense began to click last year, the Bulldogs took on a form that many other WAC teams have made famous over the years: a high-octane offense with a "defense" best preceded by the words "We don't need no stinkin'". Even as their offense improved from the first half of the season onward, their defense continued to struggle and was the biggest reason why they ultimately came up just short of bowl eligibility. The unit's improvement will be crucial in getting back to the .500 plateau in 2011.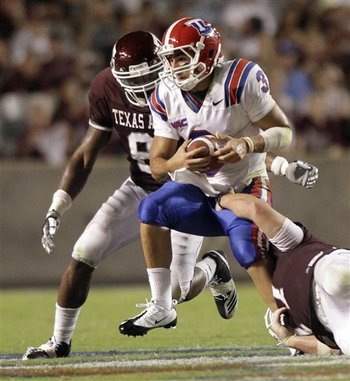 This fact is even more apparent after looking at who the Bulldogs must replace. The losses on offense are fairly minimal, with the aforementioned Livas, tackle Rob McGill, guard Jared Miles and inconsistent quarterback Ross Jenkins the only departing players. The defense, however, is not in the same boat, as three defensive backs (Tank Calais, Josh Victorian and Olajuwon Paige) and two tackles (Mason Hitt and Randy Grigsby) must be replaced. It goes without saying that Livas' skill set on punt and kick returns will also be greatly missed.
With running back Lennon Creer poised for what could be a break-out season, the Tech offense has the potential to get even better and surprise some people. But any hopes the Bulldogs have of winning a WAC championship hinge on finding numerous productive replacements in a defense that wasn't particularly good to begin with.
Next week it's Utah State, everyone's favorite ambassadors of
premature celebration
.