There are now less than 100 days until Nevada's season opening game at Oregon, and it's our job here at Pistol Whipping the WAC to bring you the latest in news that matters to Wolf Pack fans.
Nevada football scheduled to play entire NFC West
Reno, NV - In what's believed to be the first arrangement of its kind in the history of college football, the University of Nevada Wolf Pack will play a series of four exhibition games against four different NFL teams next year.
The deal was announced by Nevada athletic director Cary Groth at a press conference at the team's offices on campus. Flanked by football players -- who remained silent throughout the event -- Groth extolled the publicity it will bring to the program.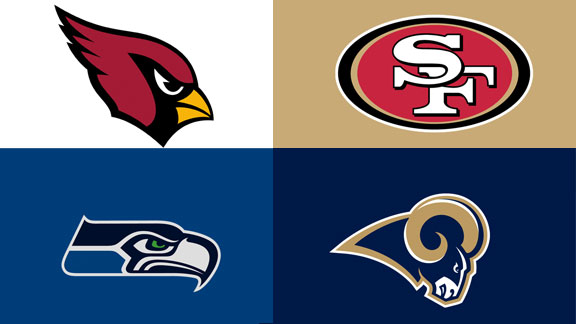 "I feel this will be a tremendous opportunity to expose NFL fans to Wolf Pack football, and I know our players will be up to the challenges presented by these games," which she added would all be played at the NFL teams' respective stadiums. "Frankly, I'm not sure why no other program has thought to do this before."
Under the terms of the agreement, the program will receive an as-yet undisclosed amount of money for the games against Seattle, St. Louis, San Francisco and Arizona. In spite of this, Groth assured the group of reporters present that the amount Nevada is due to receive will be "comparable to what other collegiate programs would get."
Because of recently departed quarterback Colin Kaepernick's draft selection by San Francisco, Groth said, he would be held out of that game to avoid any "conflicts of interest."
When asked why she sought out the Seahawks, Rams, 49ers and Cardinals for these games and didn't make more demands during the negotiating process, Groth was adamant in her response. "We wanted destinations that would be easy for our fans to travel to. The program's well-being and our fans' ability to support these players in person were paramount concerns for us throughout this whole process."
Nevada head coach Chris Ault was out on the recruiting trail at the time of the announcement. He sounded mostly pleased when reporters contacted him and told him the news.
"That's really neat stuff. Since it's the NFC West, it won't be much different than the competition we'd face from someone like New Mexico State."
Latest Oregon football uniforms visible from space
In this satellite photograph of Eugene, Oregon taken from aboard the ISS, the blue arrow points to a cluster of the new Duck football uniforms.

Eugene, OR - In their continuing effort to provide their football players with the latest in futuristic clothing, athletic department officials from the University of Oregon unveiled the program's latest line of uniforms at a press conference yesterday.
"These uniforms are indicative of Nike's commitment to providing our players with the best competitive edge in all of sports," said Ducks head coach Chip Kelly. "The cosmically bright shades of neon green and electric yellow in addition to the black and silver alternates will be just another facet of playing the Ducks that our opponents will have to plan for."
The stylized, distinct combinations of jerseys, pants and helmets were developed at Nike headquarters in Beaverton. Astronauts aboard the International Space Station later confirmed the uniforms were plainly visible to the naked eye from low Earth orbit, just as UO officials had boasted.
"We were skeptical at first, but once we got into a geosynchronous orbit over Eugene and went out for a space walk, it was real easy to spot 'em," said shuttle commander Col. Dennis Hayes. "No binoculars necessary. That's American ingenuity for you."
In response to concerns that have already been voiced over the potential danger the uniforms could pose to other players and fans, a Nike spokeswoman seemed unfazed.
"We've anticipated such concerns, and are prepared to address them with a new line of premium sunglasses which will be available exclusively from Nike. You've heard the phrase 'put on your stunner shades' before -- well, you might say these are actual 'stunner shades,' as they prevent you from being physically stunned by these colors."